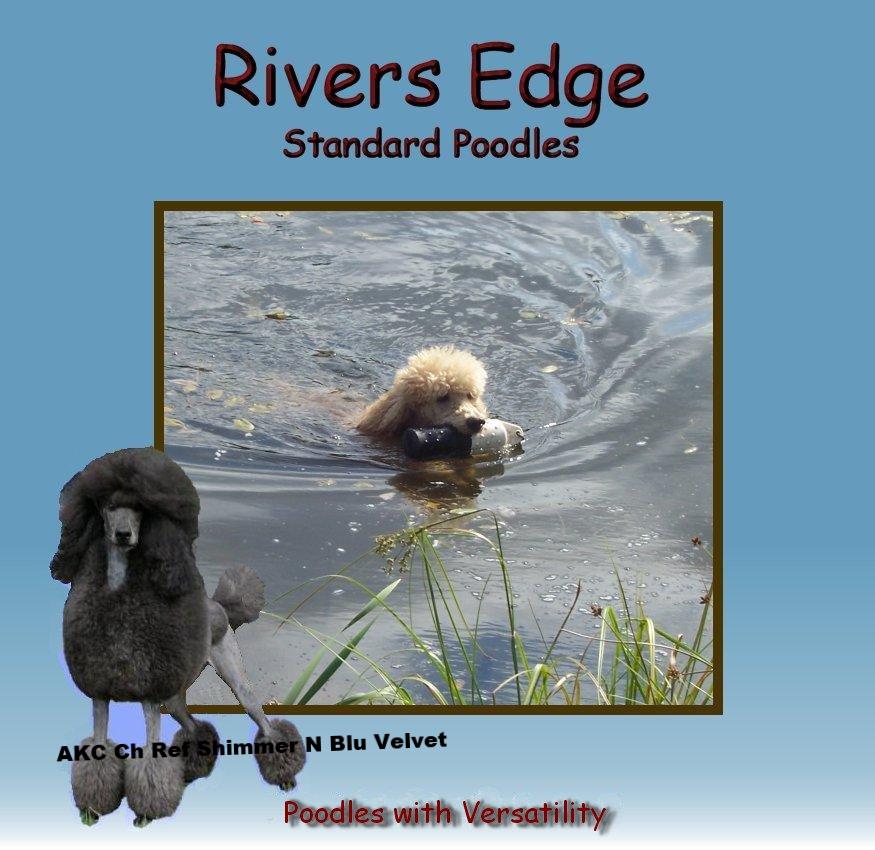 Quality Standard poodles in black, blue, apricot, cream and occasionally parti-colors from Michigan
Welcome to our website.....
The Standard Poodle is a Versatile Breed......
Here at Rivers Edge our Poodles are capable of doing
a number of different things and be "Good" at it!

WE HAVE PRODUCED AKC, UKC, INTERNATIONAL AND CANADIAN CONFORMATION CHAMPIONS,
CERTIFIED THERAPY DOGS,
PERSONAL SERVICE DOGS,
SEEING EYE DOGS,
HEARING EAR DOGS,
OBEDIENCE TITLED and
LOYAL, LOVING COMPANIONS.

OUR RENE' HAS SIRED THE #11 MASTER HUNTER POODLE IN THE U.S.
and WE HAVE PRODUCED SEVERAL OTHER RETRIEVERS IN WATER AND FIELD.

OUR POODLES HAVE PROVEN TO BE FOCUSED, WILLING PARTNERS....
THEY CAN GO JOGGING WITH THEIR HUMAN, RETRIEVING OR SHOWING DURING THE DAY
AND CUDDLE ON THE COUCH FOR THE EVENING!
*2017 celebrates 19 years as owners/breeders/exhibitors of this special breed.*
Our experience is an advantage
when looking for a reputable breeder.
and
We celebrate with honoring our beginning....
Margot and Rene' who was our foundation of Rivers Edge Poodles
Margot enjoyed 14 years with us and Rene' left us at 15 years and 9 months!
We sure do miss these two but so happy to have kids and grandkids from them
to carry on their legacy...
Longevity is something we work towards with genetics and environment!
When we do have puppies they are born and raised in our home.
Our parent dogs are Health Tested .
We do not ship our puppies as we love to meet their new families in person.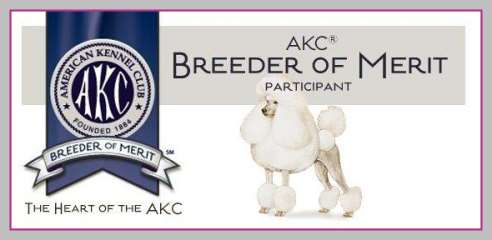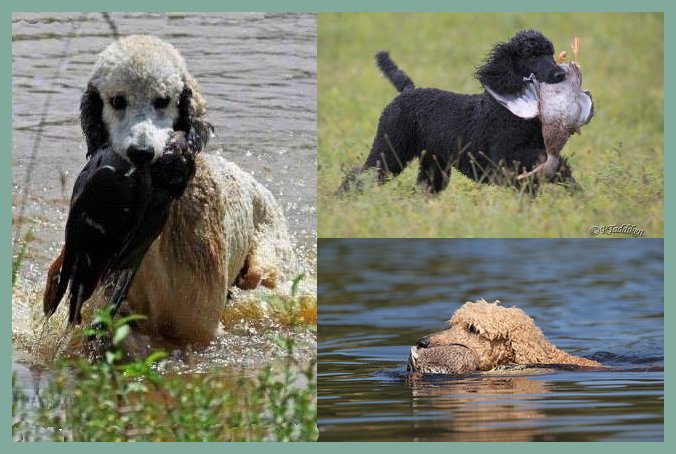 Some of our home bred retrievers from our solid and parti lines!