Quality standard poodles in black, blue, apricot, cream and occasionally parti-colors

PUPPIES HAVE ARRIVED!!
CeCe and Shadow puppies available.
We have 6 black boys and 4 Sable boys.

Deposits are required to hold a puppy until they are ready
for their new homes on July 14th.
Puppies will be chosen by their new families at that time.
Again we have received questionnaires wanting one of these puppies
"without" any contact information. Please carefully read our questionnaire.
We can not directly respond to it without some contact information from you!

These will be smaller to average size poodles....21-24 inches tall at the shoulders.

Tails and dewclaws are natural on these puppies(not docked).
Mom is natural.......go to CeCe's page to view photos of her.

If you are ready to add one of these boys to your family, please fill out our puppy questionnaire to let us know what kind of home you would be giving him and what you are looking for in temperament. If you are looking for another color/gender or are not ready to reserve one of these puppies with a deposit, there really is no need to fill out our questionnaire at this time.

Are we cute or what?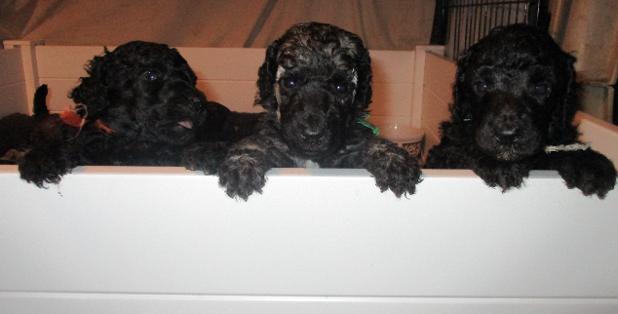 What the Sable Boys look like at 4 weeks of age.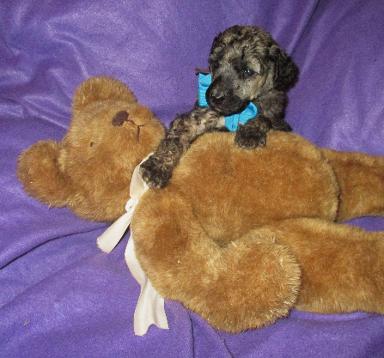 What the Black Boys look like at 4 weeks of age.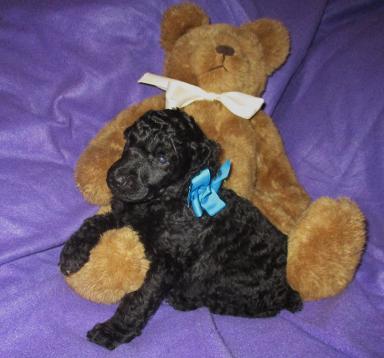 Order of choosing a boy
1. Breeder "no color preference"
2. Denise "black color"
3. Bea "no color preference/therapy companion"
4. Alexandra "Sable"
5.
6.
7.
8.
9.
10.

When we consider homes for our foster/guardian arrangement
we can only consider homes that have a secure, fenced
yard and within two hours from our home...no exceptions!
So please acquaint yourself with our program.
We would also be happy to have you speak/meet with some of our
other foster families.


What is a Foster Home? Click Here
Attention!! We have received some questionnaires without any contact information. Please note that we can not directly respond to the questionnaire so you need to submit your email or phone number on it if you want us to contact you.

Our parents
are health tested and have documentation!