Quality standard poodles in black, blue, apricot, cream and occasionally parti-colors


We are excited to announce our "third generation"
certified therapy dog, Ana Lis's
puppies have arrived.


All are gorgeous black.
This is a small litter so will be getting back
with all those who have contacted us according to
when we received your filled out puppy questionnaire
once they have been to our vet for tail and dewclaws.
(Please be patient....right now we are all resting up from being born)

A deposit will then be required to hold a puppy
before they are ready to leave.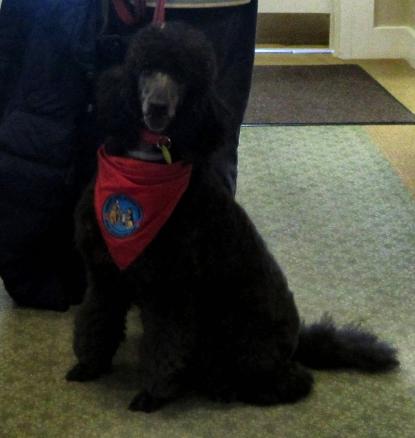 Please "only" fill out our puppy questionnaire
if you are seriously interested in one of our
current puppies, planned litters or foster/guardian arrangement.
Be willing to wait until we have something available/of age for new home.

Read our Contact-Price page for more details...
Attention!! We have received some questionnaires without any contact information. Please note that we can not directly respond to the questionnaire so you need to submit your email or phone number on it if you want us to contact you.

We are currently looking for a Foster/Guardian Home
for two puppies. Visit our Foster page.
Will only consider homes that have a secure, fenced
yard and within two hours from our home...no exceptions!
So please acquaint yourself with our program.
We would also be happy to have you speak/meet with some of our
other foster families.


What is a Foster Home? Click Here

We regularly hear from families who are enjoying one(or more) of our puppies.
Please take a look at photos that we receive from them....HERE

Our parents
are health tested and have documentation!