Quality standard poodles in black, blue, apricot, cream and parti-colors located in Michigan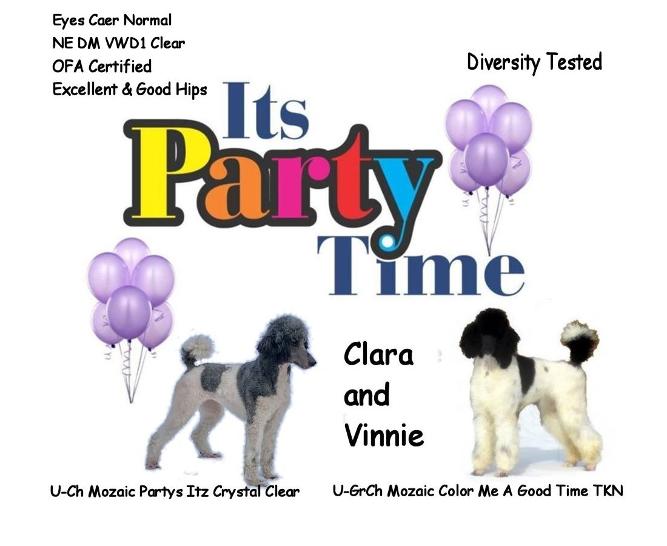 Clara and Vinnie had their beautiful litter of parti-color puppies.
Colors are undetermined at this time but could be black or blue parti.
3 Boys and 5 girls.......we have some of both available.
They have made their first vet visit for tail docking.
We do not have dewclaws removed.
Accepting deposits at this time to hold a puppy until
they are ready to leave for new homes June 26.
If you are looking for an Obedience, Agility or loving, loyal companion,
this litter will provide those types of puppies.


These puppies due to parents size could mature to an average size
of 22-25 inches tall and 38-50 lbs depending on gender.


This is Clara's first litter.
Vinnie has had solid and parti-colored puppies depending on the female.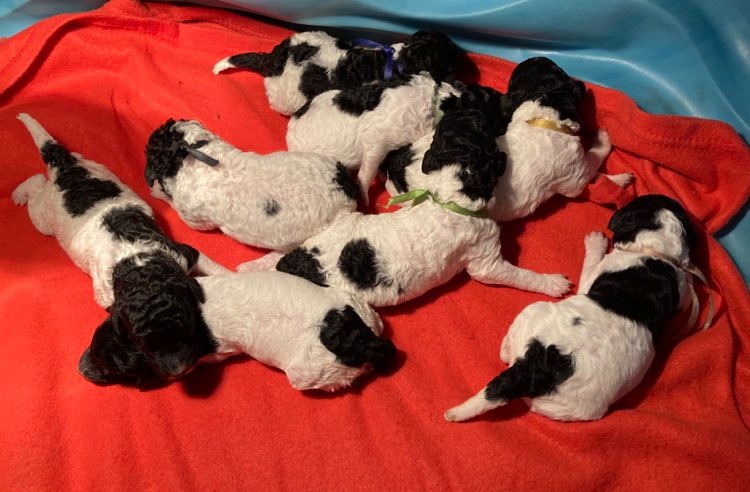 puppies had a good nap after getting home from vet visit for tail docking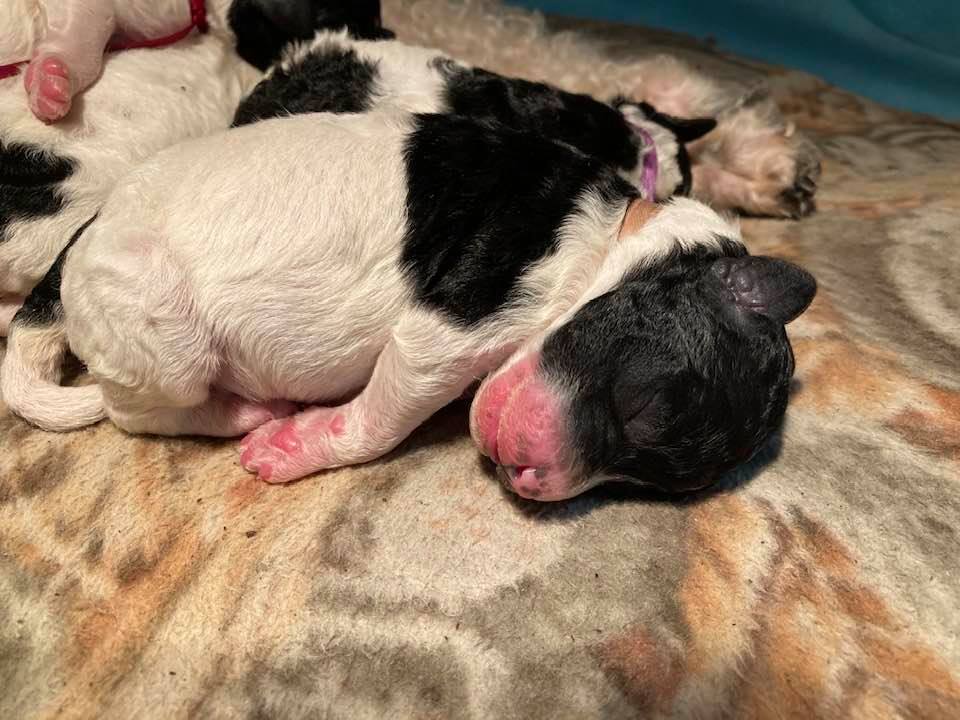 Since we thought this was a big litter for our little Clara's first time, we helped out with some bottle feeding the first few days...puppies loved the special mixture of "goats milk, yogurt, karo syrup, liver broth, canola oil and raw egg yolks"....they thought it was quite yummy!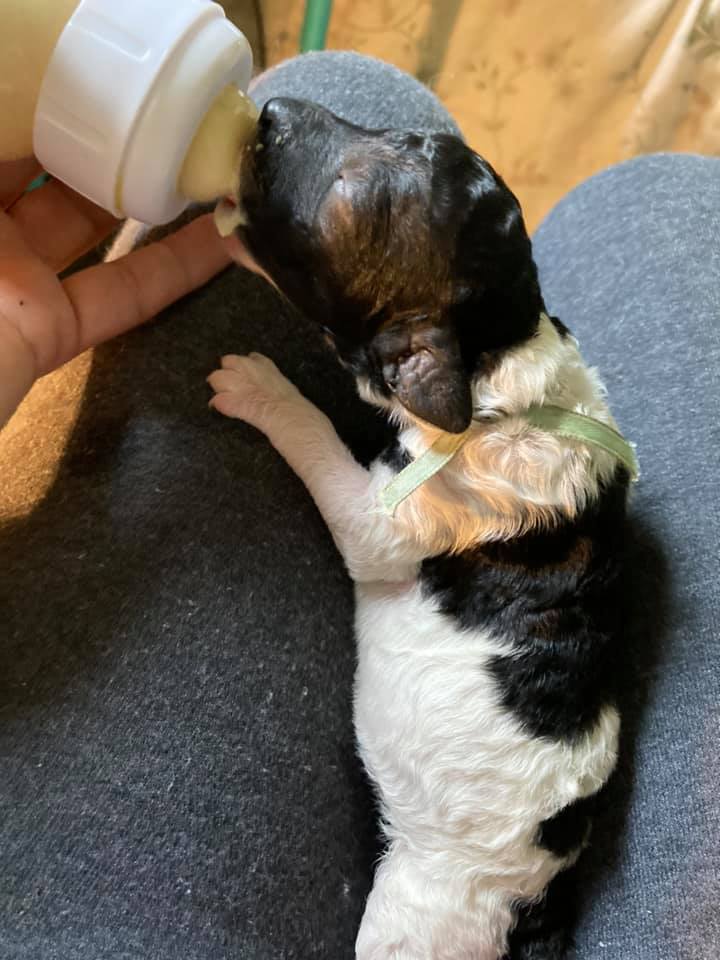 This is a video of Daddy, Vinnie at 10 months old
at his first show about 5 years ago.
He earned Best of Breed and a Group 2.
He is such a happy, tail wagging poodle.
He is a delightful dog with a Great personality..
We are also very excited to announce that our
Gunner (who has titles in retrieving and obedience)
is expecting his first parti-color litter of puppies
with our beautiful Big girl, Paris.
Anticipating puppies in Blue & White parti-color.....


These puppies will be on the larger size...
at least 25-26 inches tall and 50 lbs for girls
and 26+ inches tall and 60+ lbs for boys when mature.
This litter will be a mix of two personalities, Gunner's high drive retrieving attitude and Paris's laid back, sweet temperament.


If you have been looking for an opportunity to work
with a poodle for retrieving,
these pups will come already dressed in CAMO!
Dock diving could also be an option and Obedience.
Puppies will become available by the third week of July
just in time for nice warm water for puppies to
practice their swimming skills.


This is Paris's first litter.
Gunner has had solid colored puppies in his previous two litters.


Inquire to get on this list.....
Gunner attended a fun Hunt test with GLHRC May 9, 2021...he had fun!


Here are a couple of Gunner's short distance training videos...one at a pool and the other a lake.
Inquire about our available young adults looking for their forever homes.
We have a couple of males...house trained/crate trained.
There is a rehoming fee!
We could have your next loving companion,
obedience or therapy dog
retriever or runing partner.
welcoming a Rivers Edge poodle to your family!
Attention!! We have received some questionnaires without any contact information. Please note that we can not directly respond to the questionnaire so you need to submit your email or phone number on it if you want us to contact you.

When we consider homes for our guardian arrangement
we can only consider homes that have a secure, fenced
yard and within two hours from our home...no exceptions
unless you already have a poodle from us!
So please acquaint yourself with our program.
We would also be happy to have you speak/meet with our
other guardian families.


What is a Guardian Home? Click Here
Our parents
are health tested and have documentation!