AKC Quality Standard Poodles in black, blue, apricot, cream and parti-colors located in Michigan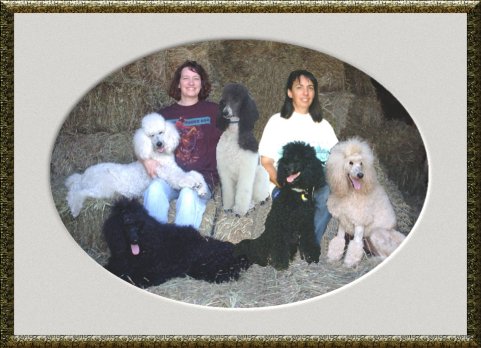 2023 celebrates 25 years experience
with this unique and elegant breed, the Standard sized Poodle.......
We are two sisters who have been active
in breeding and dog sports for 30+ years.

Our introduction to Poodles began at a young age.

We grew up enjoying the companionship of Toy and Miniature poodles
thanks to our grandmother.
Our parents also instilled in us a love for animals and because of that

we have spent most of our lives enjoying the rewards of owning

a menagerie of furry companions.
Our poodles enjoy the country life on 15 acres which is nestled

along a fast moving trout stream, the "Little Manistee"
that winds through some of Michigan's beautiful National forests.
We consider health, temperament, intelligence
and reaching the preferred standard to be the most important.
Nature doesn't always guarantee perfect health when breeding dogs
but we guarantee that the dogs we do breed have been health tested themselves.
We wait until our dogs are of health-tested age
to introduce them into our breeding program.
Our poodle moms have on an average 1 - 3 litters in their lifetime.

We don't support mixing our Standard Poodles with other breeds
in following the latest trends.... so you will not find any "designer"
or "doodles" being offered on this site.
PLEASE DON'T DOODLE WHEN YOU CAN POODLE!!
If you prefer a fluffy faced dog, a poodle can be trimmed to look just so.
A purebred dog has a LONG history of health testing that a mixed breed doesn't.
Don't support the breeding of dogs with totally different hair texture
which will be a nightmare to groom. Doodles are NOT Hypoallergenic despite what you are told.
It makes no sense to charge families large sums of money for a mixed breed?
If that is what you prefer, then by all means, please help those in a shelter needing a home.
We raise AKC REGISTERED Standard Poodles ONLY!!

We double and at times triple register some of our dogs

with other clubs such as United Kennel Club(which is the 2nd oldest U.S. club)
and Canada to be able to participate in their events.
We do not intentionally in-breed and have found out that simply looking at pedigrees do not insure this.
So beginning in 2017, we have begun to use a unique diversity test
from UC Davis Laboratories in California to breed even more diversely for "better health".

We have found in our years with Standard poodles that they are affectionate, intelligent,
and thrive on praise and attention. They make excellent companions

for the family as well as obedience, therapy, and hunting dogs.
We always welcome phone conversations and visits by appointment after

initial contact via our puppy questionnaire.
Please Enjoy our website!