AKC Quality Standard Poodles in Black, Blue, Apricot, Cream and Parti-colors Located in Michigan
Some of our poodles have displayed the desire to retrieve
so we have decided to show case those who are exceling on this page....
from our beginning to current!
This does not include most of our poodles who retrieve for their owners.
We will try and keep our information up to date on what our dogs are currently doing.
Some of our training days and puppy introductions to water/swimming have been posted below.
Enjoy!
Our first poodle to show interest in retrieving was our apricot stud dog, Rene'. He loves to swim and was a natural. Our interest in retrieving didn't come about until Rene' was an adult dog so most of his retrieving was just for fun.
To the right is a photo of one of his training days with a group of avid duck hunters and their dogs. Rene' would surprise them with his desire to bring back his bumper or bird no matter how difficult the retrieve was.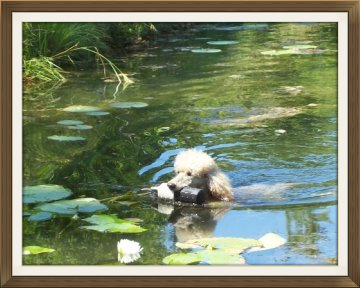 This is one of Rene's training days for water.

Rene' produced a litter of gorgeous apricot puppies for a friend of ours and one puppy in that litter went on to earn a Master Hunter title with his owner, Ann Marie.....click here for some great photos of "Jake"
One of our next poodles to retrieve is an apricot son of Rene'......."River" We started swimming him at 12 weeks of age and by the time he turned 6 months, he had shown so much promise that we decided to send him to a trainer. To the right is a video of him and his sire, Rene having fun
retrieving dummies at a near by lake before he left.
River has both his AKC Senior Hunting Retrieving title and his UKC Seasoned title.
Here is a link to River's page.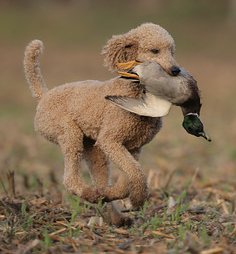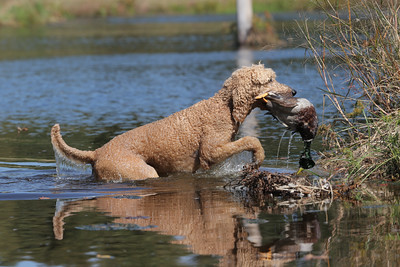 Jewel is our "first girl" to retrieve. She was introduced to water at about 8 weeks of age and proved to be a natural swimmer. She is the black puppy in the video below. Go to Jewel's page for more photos.
She has been handled completely by us and has a number of "Working Certificates and her UKC Started title. She also earned half of her AKC Junior title before we decided to retire her due to age.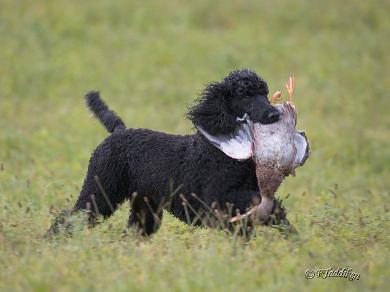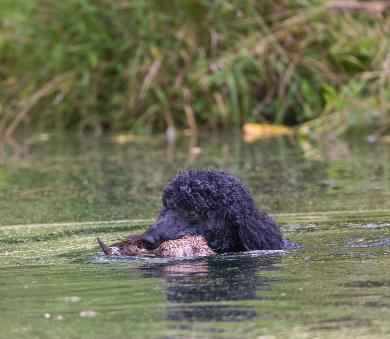 We bred our parti line into our solid retriever line and produced some naturally camoflouged puppies. We quickly started them in water using a kiddy pool as the lakes weren't warmed up yet.

Eventually things warmed up and we took the puppies to the lake at about 11 weeks old.

Gunner is the apricot and white parti puppy in the videos above. Photos below currently showing him earning both his AKC Junior Hunter Retriever title and his UKC Started title making him the "first male" parti-colored standard poodle to do so.
Take a look at Gunner's page.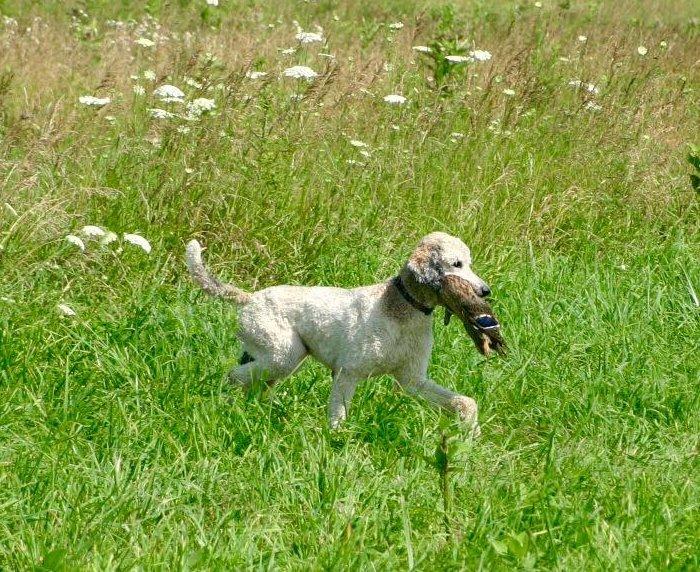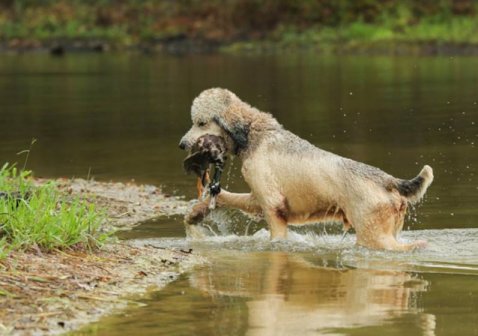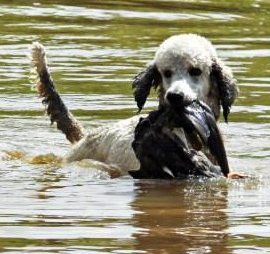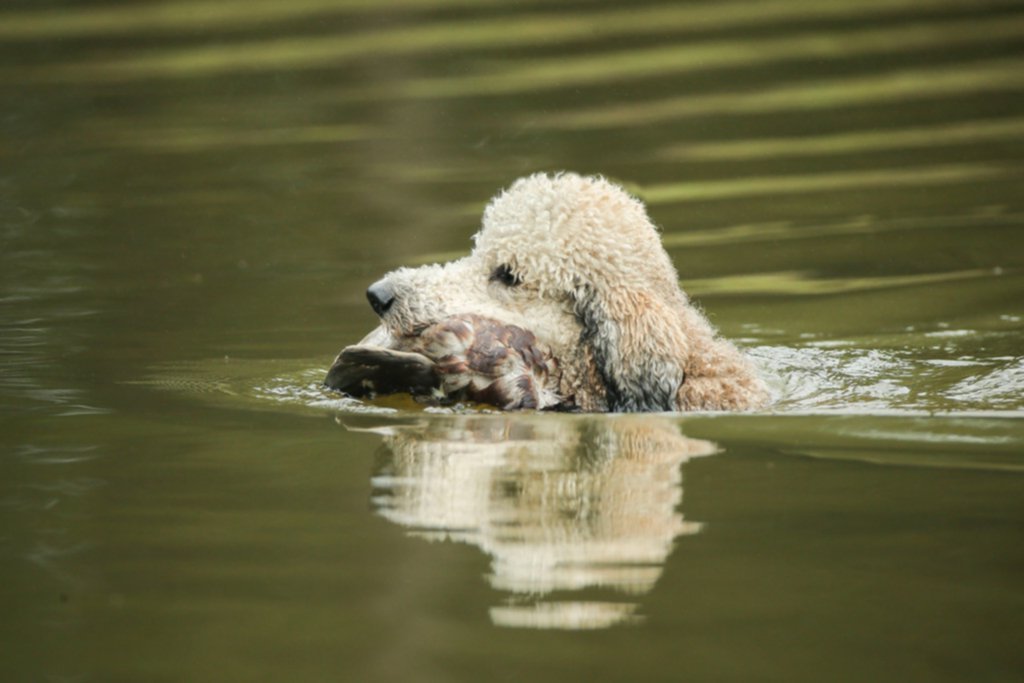 Our Charli who is a sister to Gunner has the drive and ambition to retrieve as well. She has earned her UKC/HRC Started title and has her first pass towards her AKC Junior title.
Go to Charli's page for more information.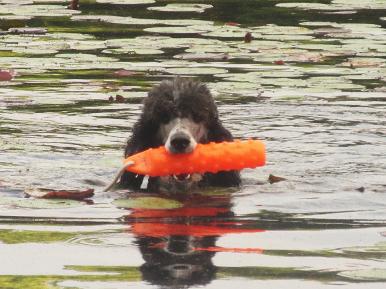 First pass towards her AKC Junior hunting title!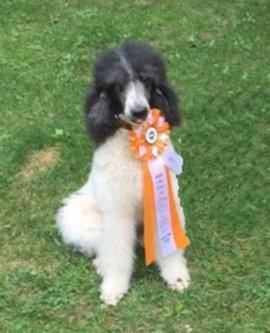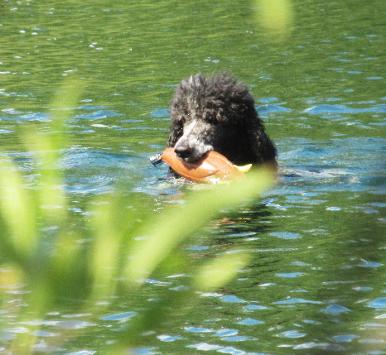 Charli does Great on her land marks for her first HRC test!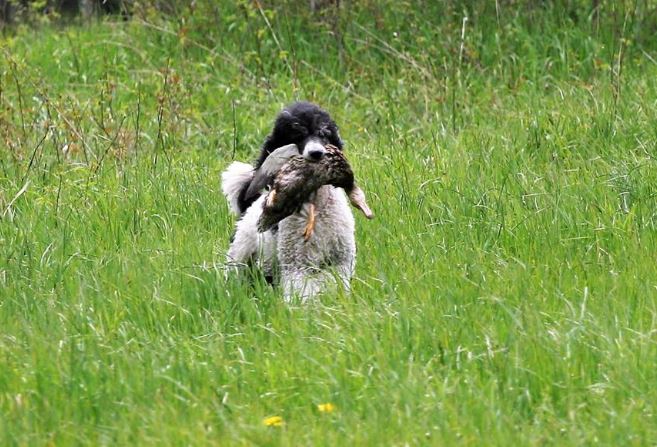 Charli's first HRC pass.......September 2019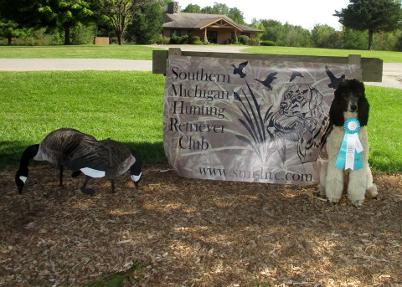 Second HRC pass......September 2019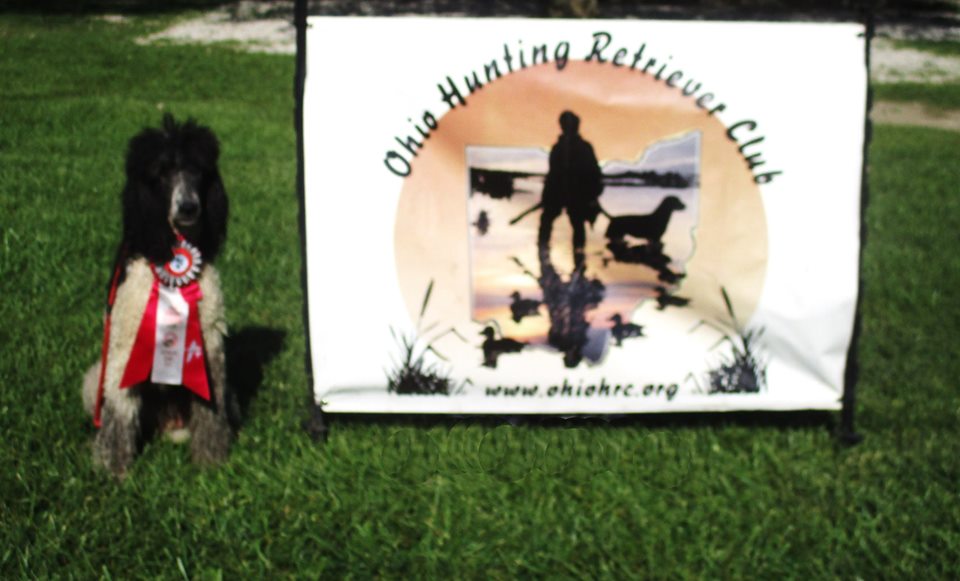 What a nice come back after a year of staying in place...Charli finishes her SHR title!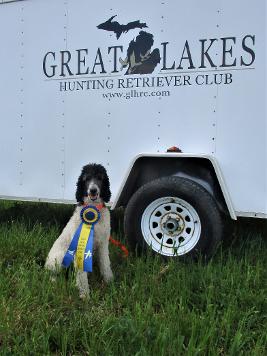 fourth and final pass for SHR title June 2021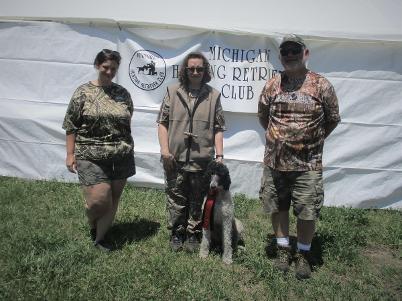 April 23, 2022...Our Rocksy may be our third generation of retrievers. She attended and participated in her first event put on by the Great Lakes Hunting Retrieving Club. She had a great time. Now to practice and get a title!!
June 5, 2022 Our Rocksy earns her first pass at the Central Michigan HRC test.....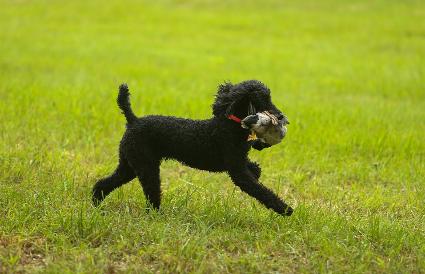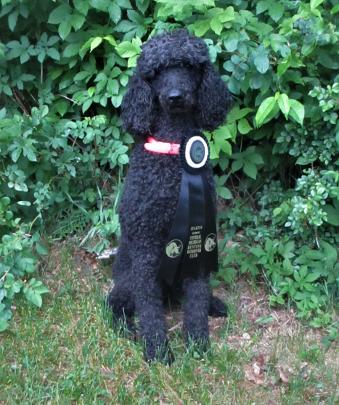 June 18, 2022 Rocksy earns her 2nd HRC/UKC pass at the St. Clair Flats Hunting Retriever Club 1-day hunting test. She earns her 3rd pass also at the St Clair Flats in August 2022.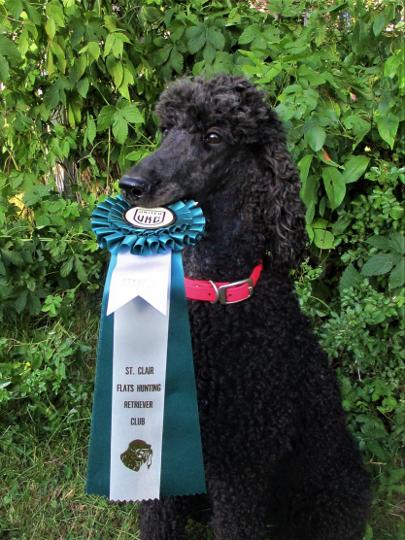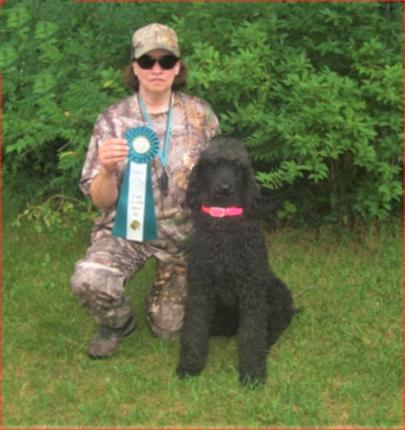 September 2022 Rocksy earns her 4th pass at the Ohio Hunting Retriever Club in Pioneer, Ohio.
Rocksy now has her first title in retrieving.