AKC Quality Standard poodles in black, blue, apricot, cream and parti-colors located in Michigan
What could be more therapeutic than a loving furry companion in these stressful times!
Our litter from Rocksy X Legacy arrived December 25th.
It was a large litter of 11 puppies.
We currently have one girl patiently waiting for her forever home.
Scroll down for more information.....
W

ormed several times, had baths, blow dried and faces/feet and tail area trimmed a number of times. Has all of the series of puppy vaccinations which will save new family some funds.

We had this litter professionally evaluated for Loving Companion, Service, Obedience and/or Agility homes by a Service Dog Trainer.


This puppy
will be small to average size...21-22" tall and 35-40lbs. Placed with limited AKC registration which means she is not being offered as breeding dogs.
Ready for new home NOW
.



Available Rocksy puppy photo below.
Purple Ribbon Girl
This girl is very active and would do well in a home that actively walks or does dog sports.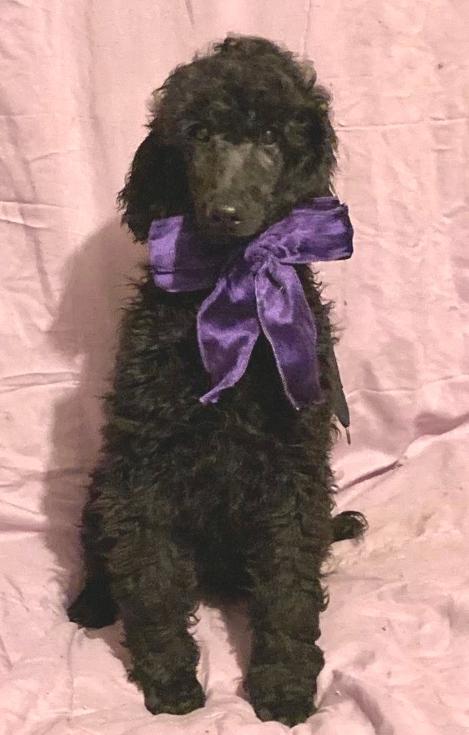 Our long awaited Phantom and Sable litter from our gorgeous girl, Naomi arrived March 13th. We still have a Sable boy, slightly marked phantom girl and a phantom girl available.
Puppies have recieved their 2nd series of puppy vaccinations and only need one more.
Both parents have CHIC # recorded on the Orthopedic Foundation for Animals website along with their health testing for hips, eyes, heart or thyroid. The rest of their health certificates can be viewed on their web page by clicking on their names.
Naomi
Shade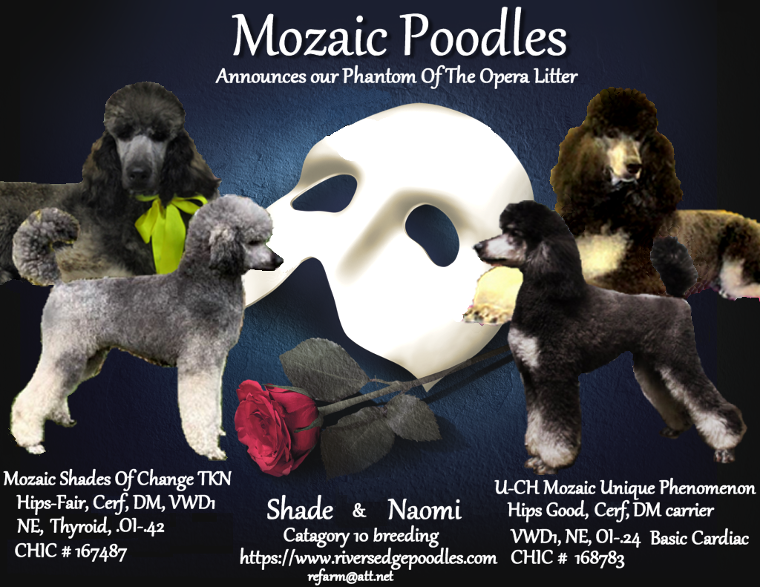 Available lightly marked Phantom Girl. She is a bouncy happy girl as well but a little less than her sister. Friendly with strangers.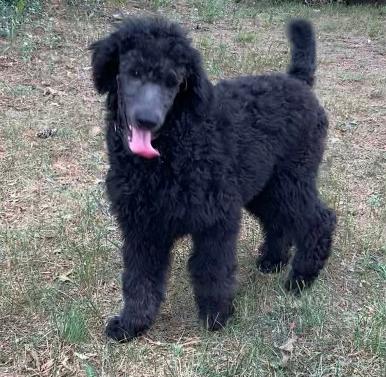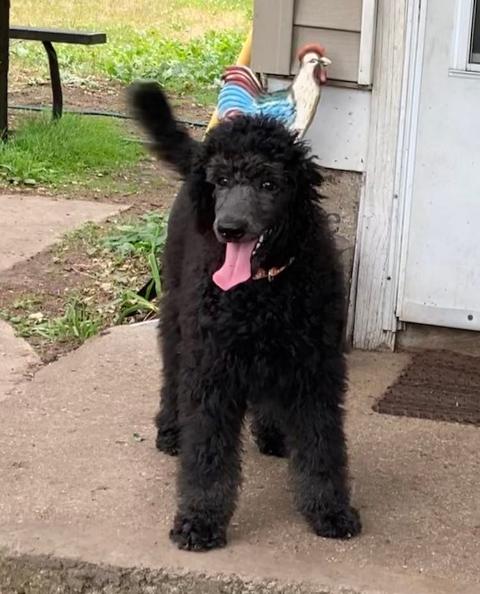 Available Blue Phantom girl. She is a bouncy happy girl who is friendly with strangers. Might be too much for a family with small children.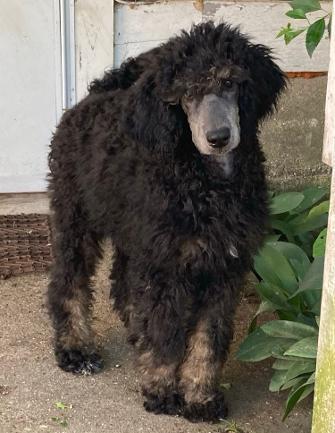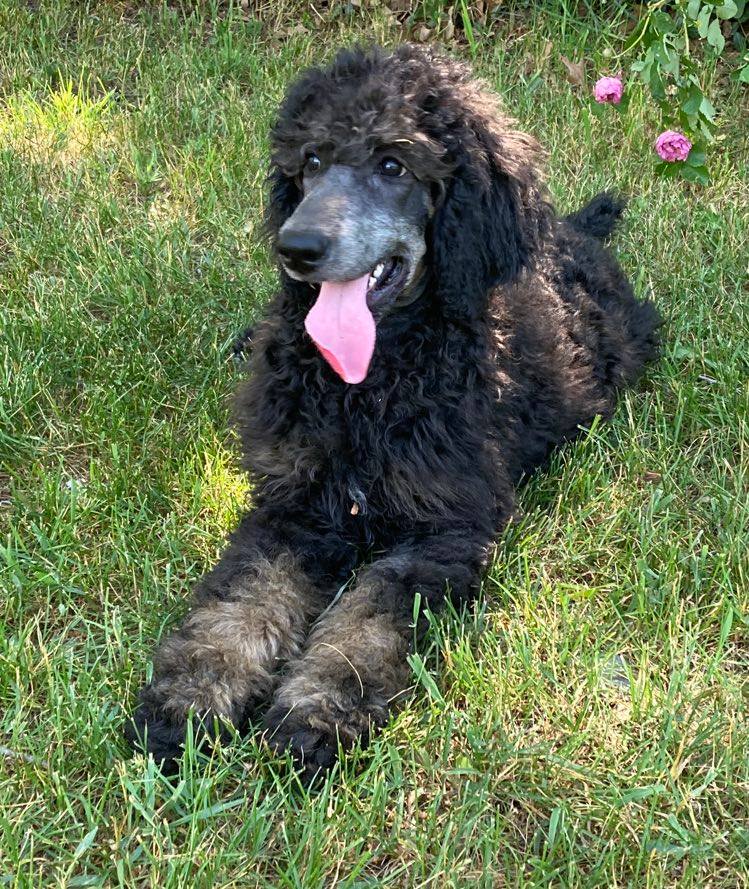 Sable boy is a sweetie who is learning how to walk on a leash.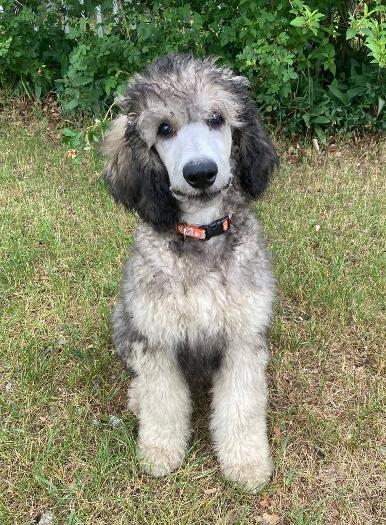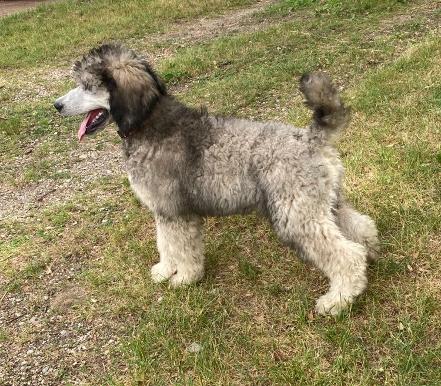 All of our puppies come with a two-year health guarantee which also includes a spay/neuter contract. They leave with their own personal health record listing their vaccinations and wormings up to that point. They are sent with a gift bag that contains a sample of their food and a parting gift.
*Plans for the remaining part of 2022*


Plans for Fall will be a litter of Sable and Silvers.
Winter 22 will be a litter of partis and solid puppies.
In 2023 if plans turn out we will have a retrieving litter of black/blues, more phantoms from our Naomi and our typical litter of apricot and black.
Feel free to get on our waiting list....
We could have your next loving companion,
obedience or therapy dog
retriever or runing partner.
welcoming a Rivers Edge poodle to your family!
Attention!! We have received some questionnaires without any contact information. Please note that we can not directly respond to the questionnaire so you need to submit your email or phone number on it if you want us to contact you.

Our parents
are health tested and have documentation!