AKC Quality Standard poodles in black, blue, apricot, cream and parti-colors located in Michigan
We will have puppies available just in time
for summer break!
Both are health tested above CHIC requirements.



Not only will this litter be a total outcross/genetically diverse for better health but the puppies will have come from grandparents who have achieved a diverse list of accomplishments......from Conformation to Retrieving and Obedience.

These puppies will be Companions willing to please. If you are looking for a therapy or service dog let us know by filling out our puppy questionnaire (scroll down for link). If we get interest for such, we will have this litter evaluated by a professional service dog trainer.

We are accepting one more deposit now, once puppies are born we will accept more.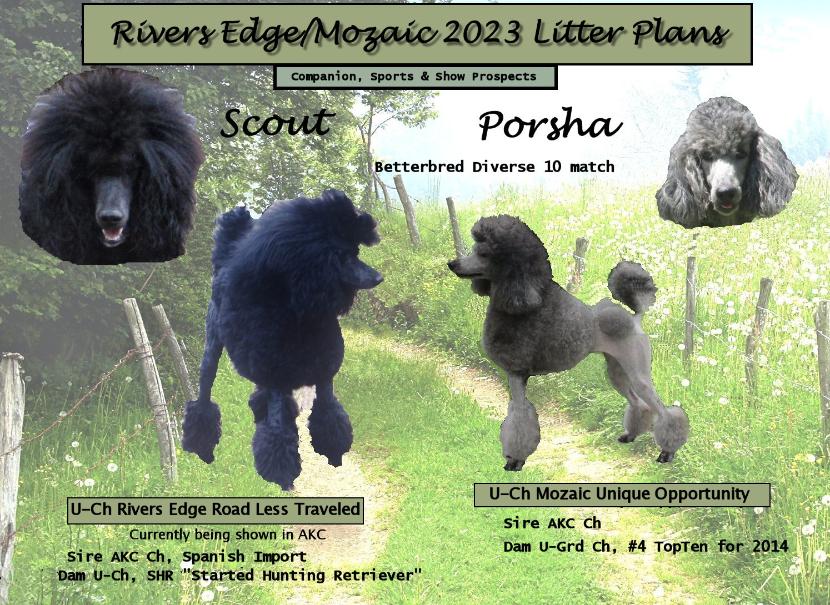 **Please fill out puppy application for current puppies or plans ONLY.**
This info. helps match puppies with their new families.
Please take filling out our questionnaire seriously
as this also helps us decide whether to plan for a future litter.



All of our puppies come with a two-year health guarantee which also includes a spay/neuter contract. They leave with their own personal health record listing their vaccinations and wormings up to that point. They are sent with a gift bag that contains a sample of their food and a parting gift.
We could have your next loving companion,
obedience or therapy dog
retriever or runing partner.
welcoming a Rivers Edge poodle to your family!
Attention!! We have received some questionnaires without any contact information. Please note that we can not directly respond to the questionnaire so you need to submit your email or phone number on it if you want us to contact you.

Our parents
are health tested and have documentation!