Quality Standard poodles in black, blue, apricot, cream and parti-colors located in Michigan
Grooming your own poodle is a great way to bond with your dog
and save you a considerable amount of money!
There are a list of things that you will need if you want to do your own grooming.
First, you will want a good book on grooming.
Below are two that I recommend.......
SHIRLEE KALSTONE'S
POODLE CLIPPING AND GROOMING: The International Reference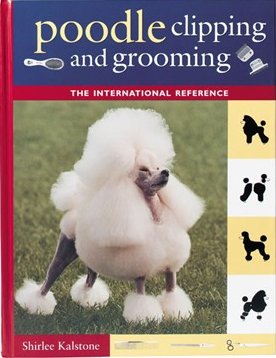 This is a comprehensive book that contains hundreds of photos and detailed step-by-step directions.......
selecting the right equipment

caring for the coats of pet Poodles and show Poodles

basic clipping of the Poodle's feet, face, neck, tail, stomach and ears, as well as fashioning the perfect topknot—with tips from the experts

setting the patterns for sanctioned show trims and popular pet trims

and many other Poodle grooming secrets and nuances
Another good book is........... All Breed Dog Grooming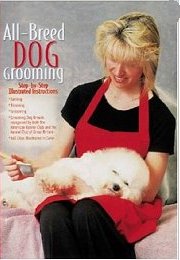 This spiral-bound grooming guide contains specific instructions on how to groom 160 different dog breeds, including nail care, tooth scaling, brushing, bathing, dematting, ear cleaning, and equipment needed. Arranged alphabetically by breed, this book provides step-by-step guidelines on how to groom many of the American Kennel Club-recognized breeds. All-Breed Dog Grooming provides tips on how to care for every type of coat. It includes many different Poodle trims and clips and provides specific information about the right type of equipment and its proper use.
A thorough index makes it easy to cross reference and find what you're looking for.
It is beautifully illustrated with 174 full-color paintings and dozens of full-color photographs.
The next things you will need to groom your own poodle are tools such as:
1. Comb....a wide tooth greyhound comb is the best.
2. Slicker Brush for regular brushing
3. Pin Brush for fluffing out the hair when drying
4. Nail Clippers....there are two types, the guillotene and the plier.
5. Styptic Powder.....a must to have on hand to stop the bleeding for when you cut the nails too short .
6. Pair of Hemostats for plucking the hair out of the ears
7. Forced Air Blow Dryer
8. Good set of Clippers and blades starting with blades #7, 10, 15, 30
9. Scissors ........a straight pair and a curved pair. Curves are best for top knots and pom-pons. 8 inch are most common size.
10. A good dog shampoo suited for your individual poodle's needs.
11. A grooming table with an arm- this will make life a lot easier when grooming your poodle.
12. Ear cleaner
13. Cotton balls