Quality Standard Poodles in Black, Blue, Apricot, Cream and Parti-colors located in Michigan
"Rivers Edge Mon Ami Margot" TDI, CGC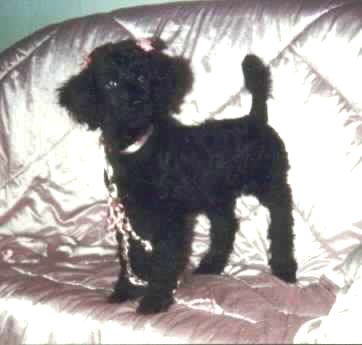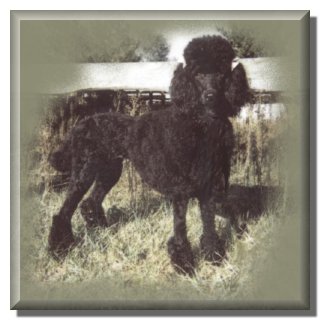 Margot was our first Standard poodle.
November 1998--------November 2012
She is greatly missed!!
Margot was also our first certified therapy dog!

She qualified for her TDI certification from Therapy Dogs International INC.
For more information about this wonderful program
visit: www.tdi-dog.org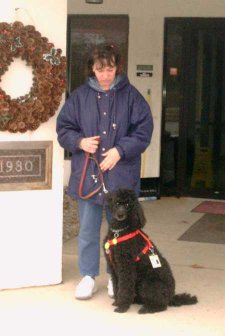 Lina and Margot making visits to the Nursing home...
Wearing her identification badge.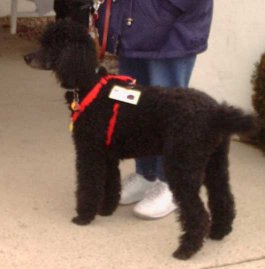 Margot's apricot son, Sully from her last litter has made us proud as he is also now a Therapy Dog.
Here is Alice n Sully at one of the first official outings with

The West Michigan Therapy Dogs.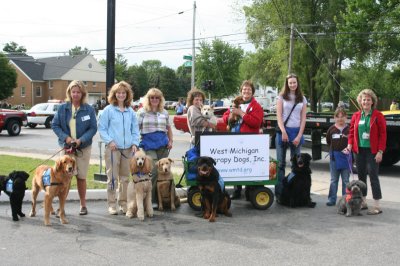 Margot has a very sweet personality which has made her very successful as a therapy dog.
She loves to give kisses and is very sociable with everyone she encounters.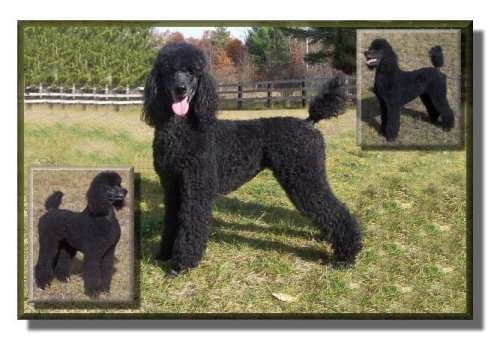 Margot had three litters of wonderful puppies for us.
Her daughters have each uniquely inherited a part of her special personality
which they will carry on in the next generation of our poodles here at Rivers Edge.
Update 2013: One of Margot's daughters "Gidget" here at Rivers Edge has been certified as a therapy dog.
Gidget has retired from showing and having puppies
and now will continue in the work her mother started of bringing a smile
to those living in nursing home invironments.